In 1979, a non-profit corporation charter was granted by The State of Texas for a fledgling emergency medical service to begin assimilating the equipment and medical staff to perform the duties of rendering medical care to the sick and injured in the area.
Attorney Fred Bosse handled the filing for the charter and the IRS 501(3)c [non-profit] status. The Nother Shore Rotary Club subcommittee, with the leadership of Dr. B.J. Westbrook, D.D.S., Dr. Ed Lehr, C.L. Roy, Elvis Bryant, and Dr William Donovan, M.D., began solicitations for colunteers and donations. Letters of invitation went to all registered emergency medical personnel livingin the NC area and other citizens involved iwth emergency Services.

A new box ambulances was purchased using funds donated by the North Shore Rotary Club and two used Suburban ambulances were acquired for back up units. Arrangements were made to collect donations of 50 cents a month on the water meter billing. NCEMS rolled into service on October 15, 1979. The staff of medical personnel and the director of operations were all volunteers. 

Several months went by before NCEMS could afford to pay the Director of Operations, Charlene Olsen, who was almost living at the NCEMS headquarters, a $200 stipend. The headquarters was a temporary classroom building provided by San Jacinto College North, located behind the gymnasium. 
The mission of North Channel Emergency Medical Services is to provide prompt and efficient pre-hospital emergency care to the sick and injured citizens in the North Channel area. North Channel EMS is firmly committed to assisting surrounding communities' Emergency Medical Services when needed.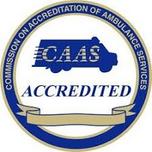 In 2019, North Channel EMS earned accreditation from the Commission on Accreditation of Ambulance Services. CAAS accreditation signifies the gold standard in the ambulance service industry.

Accreditation includes a comprehensive self-assessment and an independent external review of the EMS organization every three years meant to increase operation efficiency and decrease risk and liability across the organization.
North Channel EMS Service Area